Mary's apparitions to St. Bernadette continue to nourish the Church today. Published in Columbia, February 2008.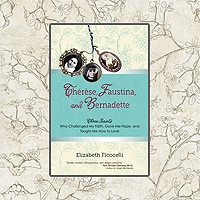 Ave Maria Press, e-Book Available — In an engaging combination of personal memoir and biographical narrative, Elizabeth Ficocelli introduces readers to three remarkable women saints who became not only her role models, but also her life-changing friends.
Lourdes is not a historical museum commemorating an event from the past, but a vibrant source of physical, spiritual, and emotional healing and conversion for people of all faiths and walks of life.